Monday, 15 June 2009
I always figured drama queens were created not born.
Apparently not.

Rowan is turning four and I don't know where she gets it from.
One day while in a public washroom she got her leg caught in a cart.
She wailed, "I wish I never woke up this day!".
Seriously. At age 3.
I should have such problems!

The ladies in the various stalls tried to muffle their giggles.

So today, tired, hungry, thirsty, an hour before bedtime we slip over to the hardware store for a few things, including a new mat for the front step.

Last time we were there Rowan noted a fish mat.
Not just any fish mat~ this one was large, covered in sport fish with the bold claim of "Canada's Most Wanted'. (Note mat at right is *not* the mat in question!)
Seeing it again, she wanted me to get it.
I said no, and picked a more suitable one.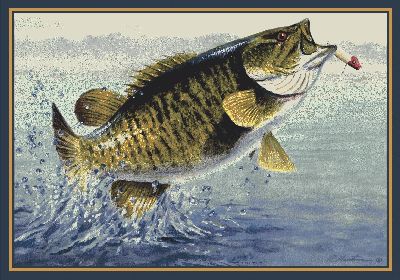 At this point, she marched up to the fish mat and

licked

the filthy tag, declaring "THERE. Now no one else will buy it". (Just what does one do in that scenario? I sure wasn't paying $30 for it 'cause she licked the tag!!).

So we finish our shopping and on the way to the van she starts sobbing.
"OH, OH MAAAAAAATTY. Matty!"



I'm thinking, who is 'Matty'?



"My fish mat, I love it SOOOO much!"
.
All the way home, the lament for Matty was peppered with claims of "I am going to cry and cry and never ever stop!". And to add to it, when her nose started dripping down her face and I offered her a tissue... "no, I want it there! It's for Matty!".

Once home, we walked into the house and the dog had peed in the entry way (where we need the mat because he ruined the last one) and Rowan slips and falls in the pee. She hates to be wet at the best of times this brings on fits of temper... and what with her recent seperation from her beloved Matty, her concentration on keeping her snot strings intact and her commitment to crying and crying and never stopping... the screeches of 'new clothes! new clothes!' fit right in.

The drama.
Thankfully a warm bath, a band aid on her skinned knee from the pee slide, a cool supper and a snuggle restored her equilibrium.

So far tonight she has only fallen out of bed once.

Labels:
Motherhood and Tales from BTRT