Monday, 7 September 2009
From September 7th -11th, BTRT will be joined by gracious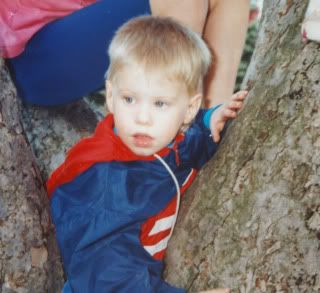 friends to raise funds for my little (ok, my BABY brother~ I am 12 years older). Now, he isn't a cute little gaffer (he used to be, see obligatory cute kid pics at right!) but he is in need.
Trevor has an eye disease called
Keratoconus
. It is one of the most common corneal diseases, but its rate of progress will vary from person to person. Typically affecting young adults, the disease begins in the teen years and progresses until mid-life when corneal crosslinking occurs and stops the process of corneal warping.
At age 24 Trevor's right eye has lost all but the ability to see shadows, and his left eye has begun to degenerate, as well.
There is a new treatment called
Corneal Collagen Crosslinking (with) Riboflavin.
which is now available in Canada. To date, it is the only treatment proven to stop the disease
(short term, there are no longer term results, yet~ been used 7 years in the UK with great success
). It cannot restore lost vision, but a combination of the treatment, hard corrective contacts and glasses can improve the current vision and halt the progress. The only other alternative at this time is corneal transplant. If not halted, given the projection of his disease, Trevor will lose the vision in his eyes.
We are very hopeful that this will enable him to keep his sight! Trevor is a recent university grad, having worked his way through school while maintaining a high A average. He now works for a marketing firm (baby monitors and cameras). He is active in hockey, ultimate frisbee and other sports. My heart is aching for him at this uncertain time, and I want to do what i can, with your help, to assist him.
The cost of the treatment is nearly $6 000, PLUS the cost of lenses and glasses. Add in a minimum of one month lost work (potentially more) and the whole process is nearing $10K.


Auctions begin Monday at 10 am and continue until Friday: Beneath the Rowan Tree.
Labels:
Hyena Cart
,
Motherhood and Tales from BTRT