Wednesday, 23 February 2011
We
love
to play~ and believe heartily that play is a child's work and, as Frederich Froebel (founder of kindergarten) said, "
Play is the highest expression of human development in childhood for it alone is the free expression of what is in a child's soul.
".
Play matters to our kids, to their development and to our relationships with them. As parents, we
can all use some fresh ideas and the energizing experience of connecting with others who share
our values.
So, I thought, why not connect with other parents (and bloggers!) around the world for a good old fashioned playdate once a week? Every Monday and throughout the week, you can join in!
Here's how it works:
At some point during the week, blog about something child related.
Check in at BTRT (http://beneaththerowantree.com) during the week, and use the 'linky widget'
to add your play link (link to the specific post, please, not the main page, for 'name' put your post title!). I will start a fresh Playdate every Monday morning.
Use the button code below to add the button to your sidebar or your posts and/ or Add the text "Join the Playdate at Beneath the Rowan Tree" with a link back to BTRT
(http://beneaththerowantree.com) at the end of your posting.
Visit other blogs who have shared their postings so we can all make new friends and play well
together!

With each new week's Playdate, where some of last week's bst will be shared!
Let's play!

Buttons:
250 x 250
175 x 175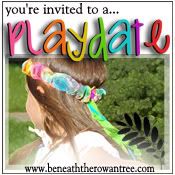 Labels:
Playdate