Thursday, 30 June 2011
Make It Easy is a series of

11 crafting tutorials

hosted by talented, artistic and enthusiastic women. You will be shown how to create 11 unique and beautiful items ~ there will be one tutorial every day for the next 11 days ~ and we really hope you will find some inspiration to get your craft on!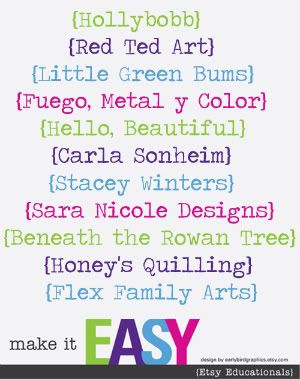 At the end of the series we will have a wonderful ebook available for a small fee of $1.99.
All the tutorials will be in this one convenient download that you will be able to print off and read over and over (
before you get started on making)
. The money will go to the person whose blog you download it from and by doing so, you will be showing your support for the hard of this crafting community.
Thank you!
www.beneaththerowantree.com
Tidy Up Gnomes
are fun little guys and gals made for keeping your child's boots (or mittens) together and reducing clutter. (
Now if only I could hire some laundry gnomes
!). My daughter insists that they *are* related to the Underpants Gnomes, which I can neither confirm nor deny. All I will say is that they make tidying up
FUN
!
Suitable for children age 3+ with help for the needle and hot glue-y bits!
Materials
Wooden clothes pegs (the old fashioned kind)
scraps of fabric, felt, old sweaters etc.
embroidery floss & needle
hot glue gun
beeswax polish (optional, directions for making HERE)
bits of curly fiber, cotton fluff or yarn
scissors
hooded cape template
To PRINT TEMPLATE:
right click, choose 'view image' and either right click + print or copy, paste into your preferred image handler and print at 100%
1)
Once you have gathered your materials, use your beeswax polish to seal the pegs.
This is optional. You can see a sealed vs. natural peg (right side) below.
Set them aside.
2)
Print out and cut out the cloak template.
Measure the template against your clothespin.
As they vary in size, you may need to
trim the template
.
The hood portion (
v & w
) should meet easily around the 'head' of the peg as pictured below.
3)
Once your template is sized to your pegs,
cut out your fabric
.
Any fabric will work, although the thickness of wool felt (or felted wool cut from recycled sweaters etc.) provides a more attractive cloak (
a
nd I am not a huge fan of acrylic felt... but anything will work!)
that will last through more handling.
4)
Thread your needle with 3-6 strands of embroidery floss.
Make a running stitch from
x to x,
leaving a 2-3" tail on either end.
Do not tie off or knot
, you will use this thread to gather the cloak.
Tie off to secure the seam.
If it is much too big, remove the stitches, trim and re-stitch~ however you should be able to make it fit securely in the next steps without these drastic measures!
Remove the cloak.
Add a drop of glue from the hot glue gun to the top of the peg.
Tie off with a knot (or two) and then a bow (or trim away).
I have used curly wool locks, but yarn cut into the desired 'style' or even cotton batting will do.
Use a little hot glue and secure your chosen hair-do.
Please ask permission for use.
Finished gnomes are yours to do with as you please~ credit to the author is always appreciated!
Labels:
crafting
,
Crafts for Kids
,
creative childhood
,
tutorial
|
7 comments
|
Links to this post