Sunday, 26 June 2011
Welcome to the Playdate! (#14)
Everyone is welcome to link up to this post all week long with your
kid related posts...
recipes, games, crafts, parenting, stories...
just think of it as our virtual play group!
June saw the end of Rowan's first year in Guiding as a Spark~
lots of play and learning to "share and be a friend".
So it is goodbye structure... hello summer as of June 30th
(when our summer break begins)
Thanks to everyone who linked up last week~ so many wonderful summery ideas!
Fabulous activities, recipes, games and more!
Here are some of last week's highlights
(chosen from participants who added the Playdate button or link to their post or blog)
If you are featured, please grab a button for your blog or post!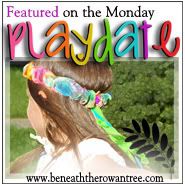 Bike & Trike Wash
(Awesome Play Date Idea!)
From The Joys of Home Educating
A Herd of Dinosaurs
from The Paisley Cupcake
Simple Bows
from Pink Stitches
Snacktime :: Cake Pops
And now for this week's Playdate!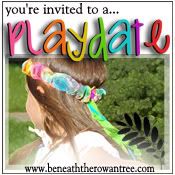 The Playdate Guidelines:
♥ Add your link and thumbnail below and please visit some of the other links and comment.
♥ Your posts can be old or new, we welcome your best! (no more than 3 per week, please)
♥
Consider adding the playdate button
(
above
) to your post or sidebar, or even a text link back to this blog (
http://beneaththerowantree.com
) ~
you don't have to
, but it sure would be sweet ♥!
♥ ANY kid/ baby/ family related posts and ideas welcome... but please no shop links, promos or giveaways.
♥ I will feature my favourites from the playdate in next week's Playdate post (choosing from those who have added our button or link to their shared post).
♥ Hit the Facebook or Twitter buttons below and share with your friends!
Hint
: Use the title of your blog post for the 'name' portion of the link up!
Labels:
Playdate