Sunday, 3 July 2011
Welcome to the Playdate! (#15)
Everyone is welcome to link up to this post all week long with your
kid related posts...
recipes, games, crafts, parenting, stories...
just think of it as our virtual play group!
The flag is raised by a WWII Veteran as the crowd sings O Canada
July 1st was Canada Day.
Our small town does it up big!
Parade through town, cake and band and games and food at the waterfront all afternoon and fireworks at night. There is something so exciting about watching the boats raft in to see the fireworks, while gathering with friends and family on the beach~ full of potato salad, covered in bug spray, propping up exhausted children....
it means summer is really here!
For our little party, I tried out a fun idea I spotted while blog hopping last week...I just don't
remember where
I spotted it~ so if you recognize it, claim it so I can give you credit!
Watermelon 'Cookies'
most fun way to eat watermelon yet!
Easy peasy. Just slice your watermelon into pieces approx. 1" thick.
Cut out the flesh with cookie cutters!
(You may want to guide young hands as to the placement of the cut outs to maximize your melon~ we put the cut offbits in a bowl to snack on throughout the day)
It is amazing how well this works~ the pieces held up well in the fridge for 6 hours before serving and many hours outdoors after that. And the kids, of course, loved them!
Thanks to everyone who linked up last week~ so many wonderful summery ideas!
Fabulous activities, recipes, games and more!
Here are some of last week's highlights...
(chosen from participants who added the Playdate button or link to their post or blog)
If you are featured, please grab a button for your blog or post!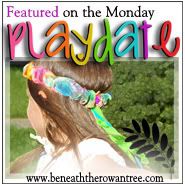 Fabric Scrap Wall Art :: Tree
Friendship Bracelet (Just like You Made at Camp!)
Crayons in the Car :: It is *that* Hot!
Watercolour Painting
And now for this week's Playdate!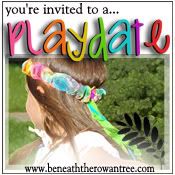 The Playdate Guidelines:
♥ Add your link and thumbnail below and please visit some of the other links and comment.
♥ Your posts can be old or new, we welcome your best! (no more than 3 per week, please)
♥ Consider adding the playdate button (above) to your post or sidebar, or even a text link back to this blog (http://beneaththerowantree.com) ~ you don't have to, but it sure would be sweet ♥!
♥ ANY kid/ baby/ family related posts and ideas welcome... but please no shop links, promos or giveaways.
♥ I will feature my favourites from the playdate in next week's Playdate post (choosing from those who have added our button or link to their shared post).
♥ Hit the Facebook or Twitter buttons below and share with your friends!
Labels:
Playdate