Sunday, 11 September 2011
Invite a friend and leave a comment with your friend's link submission number (ie. My friend Tracy came over and added link #23 to the party!), for another chance to win~ bring lots of friends? Enter lots of times...! I will draw the winner randomly from among link submissions and comments next Sunday evening.
Here are some of last week's highlights...
(chosen from participants who added the Playdate button or link to their post or blog)
If you are featured, please grab THIS button for your blog or post!
Otherwise scroll down for our participant button for everyone!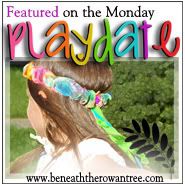 The Best Gift Ever :: Enjoy a Walk in the Woods on our Playdate
by One Hook Wonder
Water Painting :: A Mess-free Craft for our Playdate
by Outlaw Mom
A Snack for our Playdate : Brownie Ice Cream Cake
by artsy-fartsy mama
Grab a button and join the fun!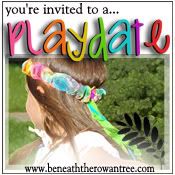 The Playdate Guidelines:
♥ Add your link and thumbnail below and please visit some of the other links and comment.
♥ Your posts can be old or new, we welcome your best! (no more than 3 per week, please)
♥ Consider adding the playdate button (above) to your post or sidebar, or even a text link back to this blog (http://beneaththerowantree.com) ~ you don't have to, but it sure would be sweet ♥!
♥ ANY kid/ baby/ family related posts and ideas welcome... but please no shop links, promos or giveaways.
♥ I will feature my favourites from the playdate in next week's Playdate post (choosing from those who have added our button or link to their shared post).
♥ Become a follower of this blog, if you wish!
♥ Hit the Facebook or Twitter buttons below and share with your friends!
Labels:
Playdate