Sunday, 2 October 2011
Welcome to the Playdate (#26)
Everyone is welcome to link up to this post all week long with your
kid related posts ...
recipes, games, crafts, parenting, stories...
just think of it as our virtual play group!
As our readers know, we love to play in the woods! Scroll back through the last week or so for a couple of photo accounts of our adventures (and all the wild and amazing fungi this year!). In this photo a triumphant kid celebrates climbing the rock face (and the little white blur beside her is Murray, the 4 pound Papillon who climbed it, too!).
Here are some of last week's highlights...
(chosen from participants who added the Playdate button or link to their post or blog)
If you are featured, please grab THIS button for your blog or post!
Otherwise scroll down for our participant button for everyone!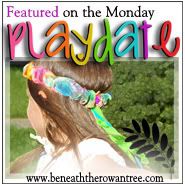 by Living Between the Words
Color Pail
by Gratefully Growing in Grace
A Birthday Treasure Hunt
by A Heart Full of Love
Grab a button and join the fun!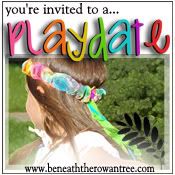 The Playdate Guidelines:
♥ Add your link and thumbnail below and please visit some of the other links and comment.
♥ Your posts can be old or new, we welcome your best! (no more than 3 per week, please)
♥ Consider adding the playdate button (above) to your post or sidebar, or even a text link back to this blog (http://beneaththerowantree.com) ~ you don't have to, but it sure would be sweet ♥!
♥ ANY kid/ baby/ family related posts and ideas welcome... but please no shop links, promos or giveaways.
♥ I will feature my favourites from the playdate in next week's Playdate post (choosing from those who have added our button or link to their shared post).
♥ Become a follower of this blog, if you wish!
♥ Hit the Facebook or Twitter buttons below and share with your friends!
Labels:
Playdate